Flowers in Jewelry: Meaning Behind the Motifs
No matter time or place, culture or language, the beauty of flowers has captivated the human imagination. From our earliest roots, flowers seem to have always filled a symbolic void. They serve as  representations that celebrate aspects of the human experience that add to the beauty of life.
Down through the ages they have been a stirring inspiration for art- from poetry to painting. Floral patterns have long been incorporated in jewelry too. With jewelry being a man-made means to convey beauty, it seems only intuitive that it should channel its natural counterpart.  Below are the symbolic histories of several species of flower commonly used as jewelry motifs. Knowing a bit about what each flower has represented through history will help you select a piece of jewelry that perfectly conveys the sentiment you wish to express.
Roses
Perhaps no flower better communicates much of the rich symbolism jewelry itself aims to convey better than the red rose.  Roses have served as a representation of romance and desire since ancient times, their unfurling petals a visual representation of the heart opening itself up to love. Ancient Romans associated the rose with their goddess of love, Venus, and the poetry of Sufi mystics associated its red hue with the cheek of a blushing lover. Later, roses became a popular symbol of chivalrous love in medieval Europe, often invoked in the romantic poetry of the era.
This symbolic weight has only been reinforced through the ages. Today, red roses are still the most recognizable symbol of love, the traditional Valentine's Day accoutrement and, not coincidentally, a popular motif in jewelry. The rose motif is commonly used in many types of jewelry but it has has enjoyed notable popularity in broaches and pendants.  Diamonds and gemstones, such as rubies, are often a feature of rose motif designs. Channeling the delicate beauty of the rose is perfect for jewelry meant to convey love and romance.
Daisies
Daisies have come to symbolize gentleness and innocence. In Victorian times, a young woman who wished to know if her love for another was  reciprocal would pluck a daisy's many petals, all the while alternately singing "He loves me, He loves me not" as she pulled each one by one. It is a practice that is still recognized today.
Because of their association with innocence and their fun shape daisies are popular jewelry motif for children. That is not to say a daisy-inspired ring or pair of earrings inlaid with gemstones (or even small diamonds) can't be an excellent piece of springtime accent jewelry for someone of any age.
Lotuses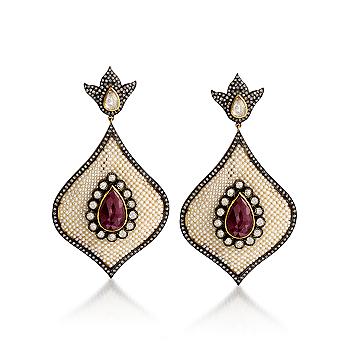 Hindu mythology affords the lotus a great deal of importance and symbolic power.  Vishnu, one of the three most important gods within the Hindu tradition, is often depicted standing on a lotus. The flower figures heavily in the Hindu creation myth and represents prosperity, beauty and eternal youth. Lotus flowers are revered among Buddhists too, taking their place among the 8 Auspicious Symbols where they represent perfection, knowledge and enlightenment.
The understated but exquisite lotus motif is perfect for any style of jewelry in any setting. Pieces invoking this motif can range from elaborate, diamond rings to dangly silver earrings that can be worn with more casual outfits.
Irises
The Victorian-era practice of floriography made the lily a representation of good news, but this flower has had a grip on the human imagination since many centuries before. The Greek goddess Iris was the messenger of the gods and served as a bridge between heaven and earth. The Pharaohs of ancient Egypt marveled in its beauty too, painting the flower on the walls of several of their palaces. Later in history, the flower became immortalized as a symbol of purity and chastity in medieval Europe, where it became especially associated with the monarchy of France in the form of the fleur-de-lis.
The iris may not be as common of a floral motif as the others, but when it is used the results are stunning. Irises work especially well as a blueprint for rings and pendants. The motif is even more exquisite when found in jewelry that incorporates lapis lazuli, a semi-precious stone that mimics the irises well-known blue-violet incarnation.
Clovers
While not a flower, few plants conjure more meaning than the clover. Both their meaning and simple but striking symmetry have made them a very attractive jewelry motif. Many are familiar with the clovers association with Ireland and Christianity's St. Patrick but the rare four-leaf clover is probably  best known as a general symbol of good luck.
The clover motif is utilized frequently in just about every type of jewelry. It's broad "leaves" make it the perfect design for showcasing diamonds or gemstones.  Clover motif jewelry can reflect its natural inspiration if inlaid with emeralds or can be the medium for entirely different colors and shades.
Trisha Fern loves fashions, jewelry and trends and loves to blog about them.